Methods to Install Android 13 Beta 3.3 on Google Pixel Phones [GUIDE] :
Google has released another version of Android 13 Beta 3, the Android 13 Beta 3.3. Several issues have been fixed after version 3.2 in early June, including an issue that caused the back gesture to not work in some apps. But Beta 3.2 still contained bugs. Google has finally announced Android 13 Beta 3.3, the third Beta version since Android 13 hit the stable platform, fixing more bugs that were in Beta 3.2. The latest Beta build has an amazing amount of fixes, especially with the arrival of the upcoming Android 13 Beta 4. Fortunately, Android 13 Beta 3.3 contains many bug fixes for Pixel smartphones.
Since Android 13 beta 3 is available, you can Install Android 13 Beta 3.3 on Google Pixel Phones and test it if you have a Pixel phone. It should be noted here that it does not support all Pixel devices. Read this entire blog to know which devices are supported and how to install Android 13 Beta 3.3 on Google Pixel Phones.
MUST READ |  Pixel and Non Pixel Devices  में  Android 13 Beta कैसे Install करे ? 
Android 13 Beta 3.3

Before knowing how to install Android 13 Beta 3.3 on Google Pixel Phones, there are some key points to remember. This is a Beta version with fewer bugs than the developer preview versions, but it's still being tested, so there may be bugs, some of which are serious. In Beta 3.3, there are still many known issues with the Android system, native apps, Android Auto and Android TV.
Make sure to install it on the secondary device, or install it on the main machine if you don't mind bugs. Also, make a full backup of your phone before installing the Android 13 Beta. As for Beta 3, the update has reached "platform stability", which means most of the major parts are complete, but there will be at least one more beta update before the final version.
Fixes in Android 13 Beta 3.3
Google released the Beta version of Android 13 3.3 this morning, which includes fixes for Wi-Fi connectivity and more. According to Google, the update "includes the latest stability and performance improvements," including three fixes related to Android connectivity. As of Beta 3.3, Google claims to have fixed 6-8 issues, which is quite a lot considering that Beta 4 is just around the corner. According to Google's release notes, some of the issues that Beta 3.3 will fix are:
Fixed an issue in Pixel launcher where if the 'always show keyboard' option is enabled for the app drawer, then when the user closes the app drawer and opens the app folder on the home screen, the keyboard will also appear wrong.
Fixed a bug that caused the system user interface to crash in some cases, such as the back gesture.
Fixed a kernel issue with lib/list_debug.c which caused kernel panic in some cases on some devices.
Fixed an issue where devices could not connect to Wi-Fi in some cases even if the network was available and the signal strength was good.
Fixed an issue with Connectivity Thermal Power Manager which resulted in slow UI rendering, app freeze, and poor battery performance in some cases.
Fixed an issue where in some cases after connecting a device to charge (eg overnight) it would become unresponsive until rebooting.
Fixed an issue that caused BluetoothManagerService to keep trying to link to TbsService even if bluetooth.profile.ccp.server.enabled was wrong, resulting in slow performance and cold startup of applications.
As always, Google will release Beta version 3.3 as an over-the-air (OTA) update for eligible smartphones.
MUST READ | Best Android Games to Play with Friends in July 2022
Compatible Pixel phones with Android 13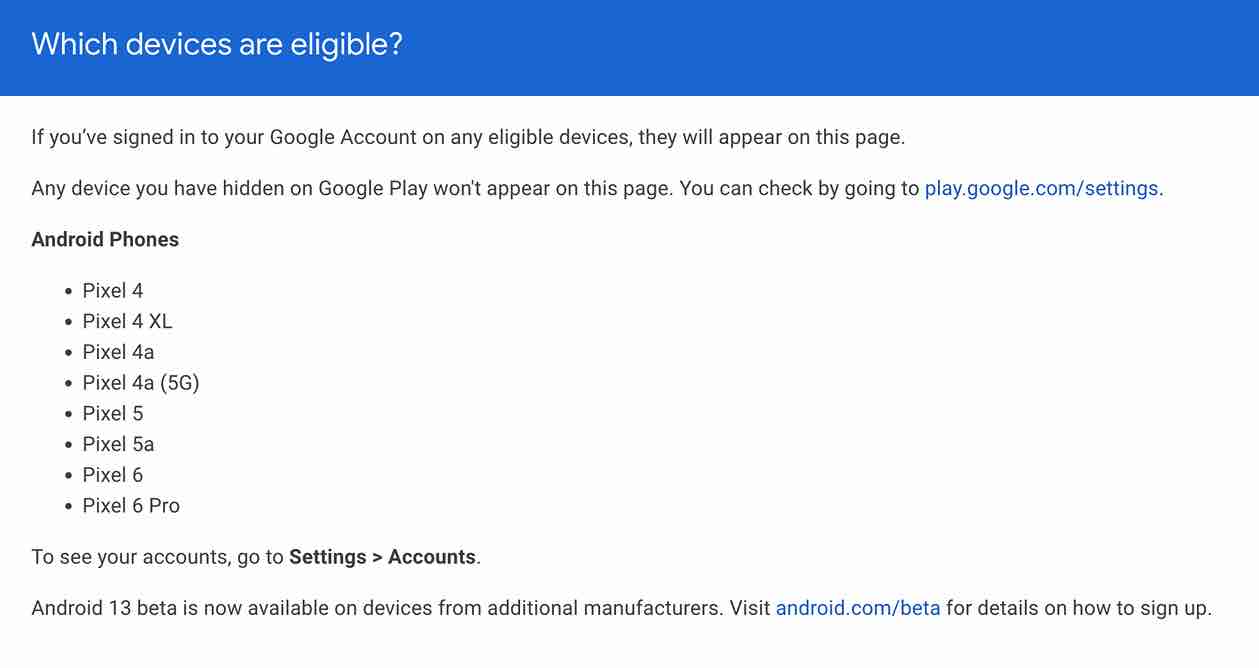 As mentioned earlier, to Install Android 13 Beta 3.3 on Google Pixel Phones, you first have to know which device supports it. Here is the list of Pixel devices that will support Android 13 Beta 3.3:
Google Pixel 4
Google Pixel 4XL
Google Pixel 4a
Google Pixel 4a 5G
Google Pixel 5
Google Pixel 5a
Google Pixel 6
Google Pixel 6 Pro
How to Install Android 13 Beta 3.3 on Google Pixel Phones
Using Android Beta Program
Other than Android 13 developer previews, you can easily Install Android 13 Beta 3.3 on Google Pixel Phones. Over the past few years, Google has introduced the Android beta testing program as an easy way to install future versions of Android before launch without using a computer. The registry sends OTA updates to beta versions of these newer versions of Android to users.
If you want to join the Android 13 Beta program, the easiest way is to manually install the latest Android 13 Beta on your Pixel with:
Move to Android Beta for Pixel,
Then click on "View eligible devices". As mentioned above, models from Pixel 4 to Pixel 6 Pro can join the beta testing program.
After you see the image of the appropriate device, press + Opt-in.
Within 24 hours, you will receive an update by going to Settings.
In Settings, go to System
Then go to System Update.
Once you have applied for the Android 13 beta, you will soon receive an OTA update notification. If you are signing up from a device that has the latest stable update of Android 12, you will be prompted to install the June beta or Android 13 beta.
JOIN TELEGRAM
FOR LATEST NEWS & UPDATES
Using Android Flash Tool
This method requires an unlocked bootloader so be sure to unlock your Google Pixel phone's bootloader first. Then follow these steps:
First of all, open Settings on your Pixel device and go to About
Tap the build number seven times to enable developer options.
Go back to the main settings and open "Developer options". And enable USB debugging to use ADB.
Connect the Pixel directly to the computer with the original USB cable.
Open the Android Flash Tool page from this link. It will ask for ADB permission on your browser, which will allow it to use ADB.
On the web page, click on Add a new device, then select your device model and click Connect.
And also, you have to allow USB debugging on your phone.
Now select the connected device in the browser.
Select a trial version from the list. Also, select the option to Erase Data for Blank Flash.
Click the "Install" button and wait for the process to complete.
Once the firmware is complete, turn off your phone and enjoy the latest Android 13 Beta 3.3.
Install Android 13 Beta 3.3 on Google Pixel Phones Using Sideload
The quickest way to Install Android 13 Beta 3.3 on Google Pixel Phones is to download it. It's a relatively simple process, but you'll need preparation to do it. Here's how.
To get started, you first need to download the files required to actually install the Android 13 beta on your Pixel phone.
You will then boot your Pixel phone into recovery mode. To do this, turn off your phone completely. Then press and hold the power button and the volume down button at the same time until you reach the bootloader page. Use the volume buttons to scroll down to recovery mode. Select this by pressing the power button. Alternatively, if you are already connected to a computer with ADB, you can use the restart command.
Use the Volume buttons to scroll down to "Apply Update from ADB" and select it with the Power button. This will trigger a mostly blank screen with text at the bottom telling you how to download the OTA, eg for the Android 12L beta.
This step is crucial because it is the only way to transfer the downloaded OTA file to your phone. You will need the ADB and Fastboot tools in a convenient place. You can download the ADB tools from the Android Developers website.
While everything is in place, you can now download the OTA file. On Windows, make sure Command Prompt is directed to the ADB tools folder and type: adb sideload.
If you're on macOS or Linux, do the same in Terminal (use the 'cd' and 'ls' commands to make sure your Terminal points to the correct folder, Google if you need help) but type ./adb sideload.
You will then need to paste the name of the .zip folder file that you downloaded from Google and hit Enter to start the process.
Once the OTA installation is complete, you will be back in recovery mode. The last step to move to a new update is to select the Restart now option with the Power button.
Conclusion
So, these were the ways to Install Android 13 Beta 3.3 on Google Pixel Phones. Before you know how to Install Android 13 Beta 3.3 on Google Pixel Phones, first check whether your Pixel device is compatible with Android 13 Beta 3.3 or not. Also, as mentioned above, make sure you install it on the secondary device or install it on the main one if you don't mind the bugs. Keep in mind that in this scenario, you will be installing an unstable version of Android 13 on your phone.
In other words, in order to go back to the stable version of the operating system, you will need to wipe the phone and perform a factory reset. So, don't risk installing it now unless you want to test out the new beta. Wait for the stable release of Android 13.
That's All For Today. Stay Tuned To TechyCatc  For More Stuff.